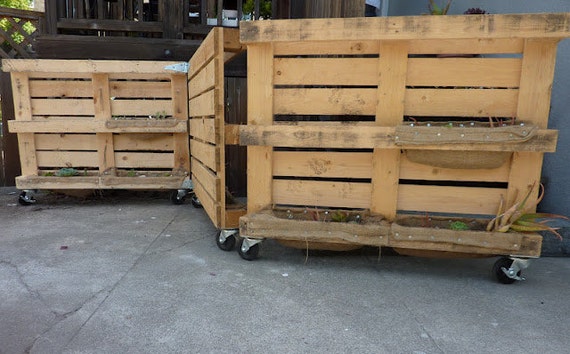 photo of pallet gate
Here in a kit with absolutely everything you'll need to make your own pallet gate. It includes: 6 heavy-duty casters, 4 double-hinges, 2 handles with screws, 50 large screws, 8 small screws, 60 washers, and 450 nails. You'll receive burlap to create 9 pockets in which to plant succulents or any other plants of your choosing. You'll also receive a complete set of instructions on how to build your own gate.
These materials will create a tri-fold pallet gate. All you need do is provide your own tools (hammer, drill, pliers ,and staple gun (optional). And, of course, you'll need to find three pallets!
The materials used to create this gate can add up. We've included them here at a very small mark-up, which pays for the time and labor of gathering, packaging, product testing, and design. Once paid, you've got everything you need for a very inexpensive, movable, foldable, unique living pallet gate.
Kit Measures: 22" long x 13" wide x 4.5" tall
Finished Gate Measures: 37" tall x 45" wide per pallet section;
Three-pallet long gate (as shown) is 135" when fully extended (or 11 feet, 3 inches)
You can purchase this kit in our shop or on etsy for $165 plus S&H:
https://www.etsy.com/listing/120755202/living-pallet-gate-diy-kit-diy-kit-to